HOURS OF OPERATION 
Sunday
10am – 6pm
Monday
10am – 7pm
Tuesday – Thursday
9am – 8pm
Friday
9am – 7pm
Saturday
9am – 6pm
NOTE: Call Center Closes 1-Hour Earlier
From very humble beginnings, Changes Hairstyling and City Spa have enjoyed an amazing 30+ years thanks to loyal guests and community support.
City Spa  evolved from a children's salon to a full service hair salon serving the needs of the entire family.  In 2001, Changes celebrated the addition of City Spa, which offers guests an hourly retreat or a daycation.
Not only does City Spa care for its guests in a first-class manner, City Spa staff are treated to first-class training.  Some have trained globally, while others have the global experience brought to them.  By partnering with manufacturers and distributors, City Spa provides in-house education and training from the world's best artists—Vidal Sassoon, Bumble + bumble, Davines, Wella, OPI, and Rhonda Allison.
"You are never done getting better," says City Spa owner Norma Dorey.  During her 30+-year career in the beauty industry, Norma has been responsible for the growth and training of a generation of technicians. Through its partnership with state of Virginia, City Spa offers an apprenticeship program, which includes free instruction and paid training to employees who wish to pursue a nail or cosmetology career.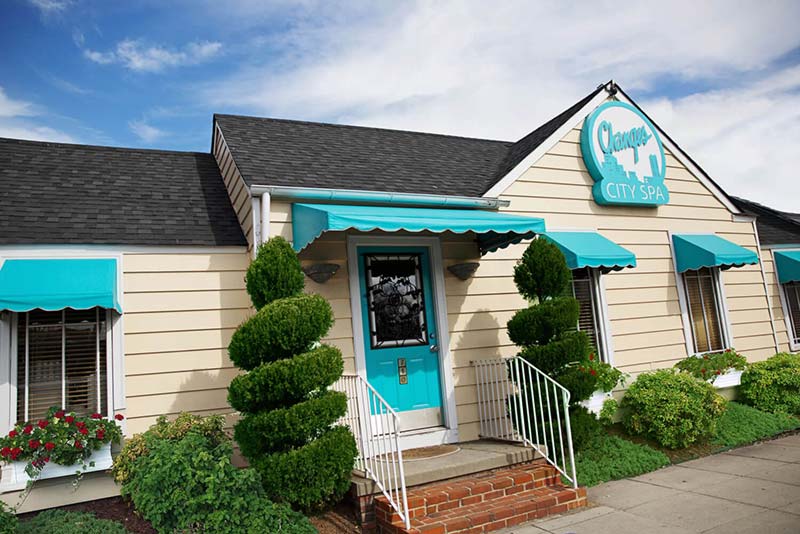 COMMITTED TO OUR LOCAL COMMUNITY
City Spa's commitment to the community has never wavered, even during sluggish economic times.  City Spa is a strong supporter of local school fundraisers, the arts community, and various local charities.  In 2016, we gave over $10,800 in services/products to local charities and also donated over 300 lbs of food to the local food bank. In addition, each year Changes Hairstyling and City Spa partner with local businesses to host fashion shows to benefit Hope House Foundation, food drives for The Food Bank, and toy drives for Edmarc Hospice for Children. Thanks to loyal guests, City Spa is a local business that supports the community and reaches out for local causes.

WE TURN 35 THIS YEAR!
Norma Dorey has been a local entrepreneur for more than three decades. She employs a staff of more than 90 at Changes Hairstyling, City Spa, and Jake's Place, all located in the heart of Norfolk's historic Ghent.
Norma is a strong advocate for the community and local businesses. She served three years as the President of the Ghent Business Association and continues to serve as a Board member. She currently serves on the Board of Towne Bank Norfolk. She also previously served on the Norfolk Economic Development and Retail Alliance Board.
Norma and her businesses have received numerous awards through the years, including Top 200 Fastest Growing Salons in America three years running, Outstanding Professional Woman of Hampton Roads, Entrepreneurial Woman of the Year, and the Hampton Roads Chamber of Commerce Small Business of the Year.
Norma is very energetic and loves helping others achieve and accomplish their dreams and goals. She believes her purpose in life is to serve others by helping them to become more than they ever thought they could be.
WHAT OUR GUESTS ARE SAYING…
Jenniferr

Marie is great! I probably could have waited another two weeks to get my hair done. But its more then just getting my hair done, it's 'me' time. I come in stressed and tired, I leave relaxed and happy. Thanks Marie you rock!

Triciah, Norfolk

Valerie always does an awesome job. She always has good suggestions on nail color.

Leigha, Norfolk

Irina Babechenko is wonderful. Irina has been giving me manicures, pedicures & massages for years. I have been coming to Changes since our oldest daughter(now age 33) got her first haircut at the 'Bus Stop', Norma's first shop.
Leigh Abiouness

Christinah, Suffolk

No matter who I see I always leave looking great! The stylists are knowledgeable, and listen to what I want.

Lindaf

Always a relaxing and pampered experience with excellent service.

Chuckb, Norfolk

Great staff, great service! Always an enjoyable experience
Rae is THE BEST hairstylist!

Margaretf, Chesapeake

Excellent pedicure. Very relaxing.

Mickic, Portsmouth

Fabulous! Stephanie is wonderful!! Always on time, very professional and has a great personality. She is an asset to your salon!!

Jacquiea, Portsmouth

Always pleasant and courteous and clean atmosphere…

Jilld, Portsmouth

Technicians very friendly. I came with my mom who asked for diet coke, which isn't a normal request at a spa, but they were able to get her one to drink during the pedicure. So Nice!

Janicep, Norfolk

Always a lovely spa experience. Irina is the BEST!

Betsys

I got a really good haircut from Marcie. She listened to me and gave me exactly what I wanted. And she explained exactly what she'd done with my hair. In addition, there was no wait time. It was very relaxed. Great atmosphere. Oh, yes, the price was reasonable.

Shannond

Loved it! My stylist was very attentive and I loved the whole experience!

Brendab, Virginia Beach

Kirsten was extremely professional and her work is meticulous. My nails look beautiful!!!

Tatsianad

Galina and Valeria are my favorite!!! I don't know what I would do without them. They make me feel so pretty;) thank you!

Meredithk, Chesapeake

Everyone goes above and beyond to welcome the clients and I always feel valued. Thank you for your kindness and great hair!!! Way to go Caitlin!!! 🙂

Tashal, Norfolk

NIcole is absolutely amazing and she takes her time and really cares about her clients!

Nancyz, Norfolk

Jana is great! My hands are very difficult to do nails because my fingers do not straighten. They rest on the palm of by hand yet Jana manages to get them done beautifully.

Suzannet, Norfolk

Leah was great as always! While the color didn't come out quite like I'd wanted, she explained she was doing this in stages so I didn't have destroyed hair. I would much rather have that than what I wanted immediately. Absolutely love her!

Tanp

This was my first experience, and this first impression has me hooked. The service was very professional, but with a pleasant personality. She was very knowledgeable, & she didn't mind answering questions/holding conversation. I greatly enjoyed my experience & I intend to return for my follow up, with the same person.

Sample 2

More long text testimonial. More long text testimonial More long text testimonial More long text testimonial More long text testimonial More long text testimonial More long text testimonial. More long text testimonial More long text testimonial More long text testimonial More long text testimonial More long text testimonial More long text testimonial. More long text testimonial More long text testimonial More long text testimonial More long text testimonial More long text testimonial

Sample 1

Long testimonial saying good things Long testimonial saying good things Long testimonial saying good things Long testimonial saying good things Long testimonial saying good things Long testimonial saying good things Long testimonial saying good things Long testimonial saying good things Long testimonial saying good things Long testimonial saying good things Long testimonial saying good things Long testimonial saying good things Long testimonial saying good things Long testimonial saying good things